FROM JUNE: CHANGE IN THE ENSEMBLE
Not only May makes everything new. A lot has changed for us as an ensemble in these strange times.
The most striking change: Harmonic Brass has a new tuba player !!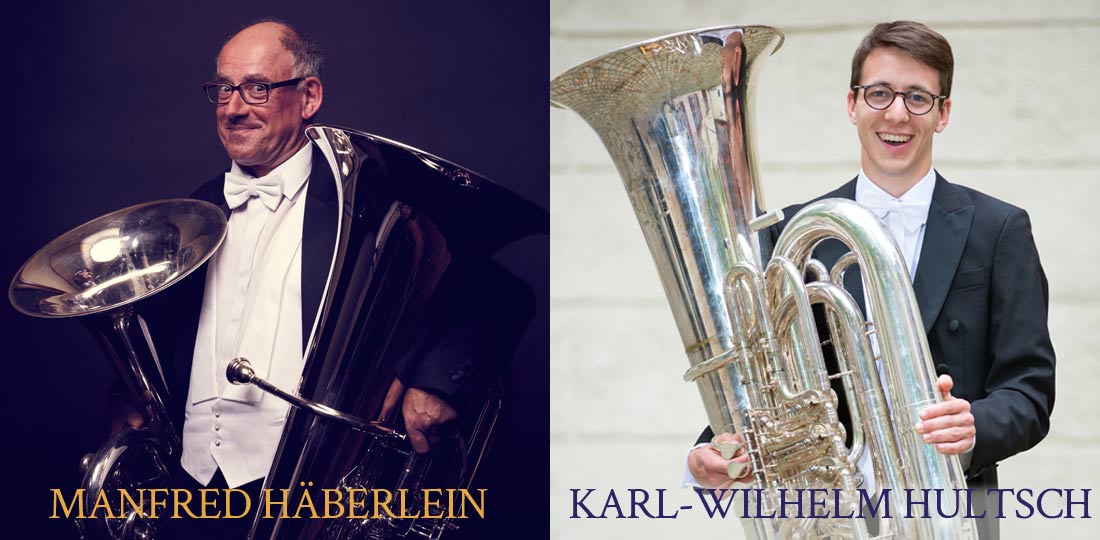 Our founding member on the tuba, MANFRED HÄBERLEIN, says goodbye to active touring life and now devotes himself exclusively to his students. Since 1991 he has been carting and playing his two tubas all over the world but now he believes that is enough. Manfred leaves a lasting legacy with the Harmonic Brass, indeed the successful development of the ensemble can largely be attributed to him. Tour and concert manager, a calm pole in hot spots, but above all a virtuoso tuba player who has provided us with a rock solid foundation both personally and musically. And because he can describe all this much better himself, we would like to publish his letter to the fans here:
Dear friends of Harmonic Brass,
After almost 30 years of turbulent, exciting, beautiful and intense touring life, I decided to leave the Harmonic Brass ship in order to be able to fully dedicate myself to my numerous students, friends and dear family. I hereby hand over my anchor to my young, fantastic successor Karl-Wilhelm Hultsch, who is now the new tuba player at Harmonic Brass. Thank you very much for your loyalty and support and I am sure that we will meet again somewhere. Of course I will continue to play the tuba.In addition to my main activities as a lecturer for low brass in Marburg and Fulda, I work for the German Tubaforum and Miraphone. If there is still time, I lie on deck in my home port and enjoy the sun …
Kind regards, Manfred Häberlein
In a top-class audition for tuba, KARL-WILHELM HULTSCH prevailed and, as Manfred has already written, is our new man on the ship.
Dear Karl, welcome!
Karl-Wilhelm Hultsch was born in Dresden on December 29, 1996. He brings our average age in the quintet to an amazing 36.2 years! He is currently studying at the Mozarteum University in Salzburg with Prof. Andreas Hofmeir and with Prof. Jens Björn-Larson at the Royal Danish Academy of Music in Copenhagen. Karl has won the 10th International Koetsier Competition and was sucessful at the German music competition, the Aeolus competition and the Geneva International Tuba Competition. Temporary work brought him to the Erl Festival Orchestra and the South Westphalia Philharmonic. From now on Karl will go on this exciting quintet trip with us.
We are very happy that you are there !!